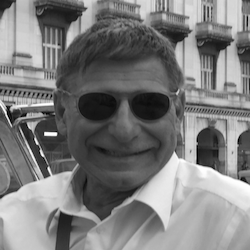 Alan Sweedler
Alan Sweedler is Director the Center for Energy Studies and Professor of Physics Emeritus at SDSU, where he served as Associate Vice President for International Programs until 2018.
Professor Sweedler's expertise is energy policy, environmental effects of energy use and emerging energy technologies, with a special focus on the U.S.-Mexico binational region. He was a founding Board member of Clean Tech San Diego and served as Director of the California Energy Commission's Energy Innovation Small Grants Program for 18 years Currently, Sweedler is a visiting scholar at the Center for Iberian and Latin American Studies at the University of California, San Diego, and holds a PIMSA Visiting Distinguished Chair in the School of Engineering at CETYS University in Mexico.
Alan Sweedler es Director del Centro de Estudios Energéticos y Profesor de Física Emérita en SDSU, donde se desempeñó como Vicepresidente Asociado de Programas Internacionales hasta 2018.
La experiencia del profesor Sweedler es la política energética, los efectos ambientales del uso de la energía y las tecnologías energéticas emergentes, con un enfoque especial en la región binacional de Estados Unidos y México. Fue miembro fundador de Clean Tech San Diego y se desempeñó como Director del Programa de Pequeñas Subvenciones de Innovación Energética de la Comisión de Energía de California durante 18 años. Actualmente, Sweedler es profesor visitante en el Centro de Estudios Ibéricos y Latinoamericanos de la Universidad de California, San Diego, y tiene una cátedra distinguida visitante PIMSA en la Facultad de Ingeniería de la Universidad CETYS en México.