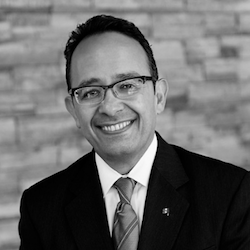 Carlos González Gutiérrez
Ambassador Carlos González Gutiérrez is the Consul General of Mexico in San Diego, ratified by the Mexican Senate on April 2019. As a career diplomat since 1987, Ambassador González Gutiérrez has specialized in Mexican communities in the US, as all of his designations abroad have been in the US.
In Mexico, in the late 90's, he worked in the Program for Mexican Communities Abroad at the Ministry of Foreign Affairs, and from 2003 to 2009, he was the founding Executive Director of the Institute of Mexicans Abroad, the agency in charge of promoting ties and collaboration between Mexico and its diaspora.
Overseas, he has been posted to four posts. Early in his career, he was the Consul for Community Affairs at the Consulate General of Mexico in Los Angeles. Then, from 1999 to 2003 he was appointed as Counselor for Latino Affairs at the Mexican Embassy in Washington D.C.
In 2009, González Gutiérrez was appointed for the first time Head of Post as Consul General of Mexico in Sacramento. Besides the regular consular activities, he was in charge of monitoring public policies implemented in the state that could affect Mexico or Mexican communities in California, given that Sacramento is the seat of the powers of the state.
After six years in Sacramento, Ambassador González Gutiérrez was transferred to another capital city as Consul General of Mexico in Austin, having to report yet again the public policies of Texas, as much as to look after the daily general services of the Consulate for Mexicans in areas such as documentation, protection and community development.
In September 2011, he was promoted by the President of Mexico to the rank of Ambassador.
He has a B.A. in International Relations from El Colegio de México and a Master's Degree in International Relations from the School of International Relations at the University of Southern California. He is author of several publications about the Mexican population in the United States.
Ambassador González Gutiérrez is married to Alina. They have two daughters: Marina and Camila.
El Embajador Carlos González Gutiérrez es el Cónsul General de México en San Diego, ratificado por el Senado mexicano en abril de 2019. Como diplomático de carrera desde 1987, se ha especializado en las comunidades mexicanas dentro de Estados Unidos de América, donde han sido todas sus asignaciones fuera de México.
A finales de los años noventa, trabajó en México en el Programa de Comunidades de Mexicanos en Exterior dentro de la Secretaría de Relaciones Exteriores y del 2003 al 2009, fue el primer Director Ejecutivo del Instituto de los Mexicanos en el Exterior, agencia encargada de promover vínculos y colaboración entre México y su diáspora.
Ha tenido cuatro adscripciones en el exterior. A principio de su carrera fue Cónsul de comunidades en el Consulado General de México en Los Ángeles. Después, de 1999 al 2003, fue nombrado Consejero de Asuntos Latinos en la Embajada de México en Washington D.C.
En 2009, Carlos González Gutiérrez fue nombrado por primera vez Cónsul General de México en Sacramento, donde además de sus actividades regulares, estaba encargado de monitorear las políticas públicas implementadas en el estado que pudieran afectar a México o a las comunidades mexicanas en California, dado que Sacramento es la sede de los poderes del estado.
Después de seis años en Sacramento, el Embajador Gonzalez Gutiérrez fue transferido a la capital de Texas, como Cónsul General de México en Austin, teniendo que reportar de nuevo las políticas públicas del estado, así como ofrecer los servicios generales tradicionales de un Consulado General, tales como documentación, protección y desarrollo comunitario.
En septiembre de 2011, el Presidente de la República lo promovió al rango de Embajador.
Tiene una licenciatura en Relaciones Internacionales por el El Colegio de México y una maestría también en Relaciones Internacionales por la Escuela de Relaciones Internacionales de la Universidad del Sur de California (USC). Es autor de varias publicaciones sobre la población mexicana en los Estados Unidos.
El Embajador está casado con Alina y tienen dos hijas: Marina y Camila.