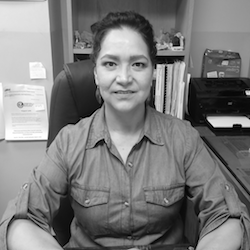 Dr. Concepción Carreón Diazconti
Dr. Concepción Carreón Diazconti is a researcher at the Institute for Engineering at the Autonomous University of Baja California in Mexicali. Her main research interests are environmental tracers in the water cycle and environmental geochemistry, particularly the determination of the occurrence, sources, processes and fate of emerging contaminants in the aquatic environment. She is author or co-author of numerous articles on these subjects in leading professional and scientific journals. Dr. Carreón obtained a Bachelor's degree from the Departamento de Geología, Universidad de Sonora, a MS from the Department of Geological Science, Brigham Young University, and a PhD from the former Department of Hydrology and Water Resources, now Department of Hydrology and Atmospheric Sciences, University of Arizona.
La Dra. Concepción Carreón Diazconti es investigadora del Instituto de Ingeniería de la Universidad Autónoma de Baja California en Mexicali. Sus principales intereses de investigación son los trazadores ambientales en el ciclo del agua y la geoquímica ambiental, particularmente la determinación de la ocurrencia, las fuentes, los procesos y el destino de los contaminantes emergentes en el medio ambiente acuático. Es autora o coautora de numerosos artículos sobre estos temas en importantes revistas profesionales y científicas. El Dr. Carreón obtuvo una licenciatura del Departamento de Geología de la Universidad de Sonora, una maestría del Departamento de Ciencias Geológicas de la Universidad Brigham Young y un doctorado del antiguo Departamento de Hidrología y Recursos Hídricos, ahora Departamento de Hidrología y Ciencias Atmosféricas. , Universidad de Arizona.