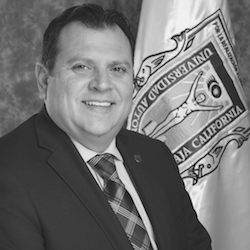 Dr. Daniel Octavio Valdez Delgadillo
He earned his bachelor's degree in legal studies from UABC. His Master's degree with honors and Ph.D. in Law from the Mexican Law school of the Autonomous University of Baja California. Dr. Valdez Delgadillo's research focuses on Human Rights, as well as theory and practice of conditiona justice by the University of Castilla La Mancha, Spain. He has publications on topics such as legal reality and administration of the judiciary, among others, and has the recognition of the Desirable Profile granted by the Secretary of Public Education of the Mexican Federal Government.

From 2000 to 2003 he served as a faculty member and from 2003 to date he is a full-time professor at the School of Law, Mexicali. He also held the position of administrator, whitin the same school of law, and from 2013 to January 2019 he served as director. At the level of the central administration of the UABC, he has held the position of Head of the Student Affairs Department of the General Directorate of Student Welfare and Coordinator of Student Services and School Management. From January 2019 to date, he is Rector of the UABC.
Es Licenciado en Derecho, Maestro en Derecho con mención honorífica y mérito escolar y Doctor en Derecho por la Facultad de Derecho Mexicali de la Universidad Autónoma de Baja California. Cuenta con la especialidad en problemas actuales de los Derechos Humanos, así como justicia constitucional, teoría y práctica por la Universidad de Castilla La Mancha, España. Tiene publicaciones en temáticas como realidad jurídica y administración del poder judicial, entre otros, y cuenta con el reconocimiento del Perfil Deseable que otorga la Secretaria de Educación Pública del Gobierno Federal.
Del 2000 al 2003 se desempeñó como profesor de asignatura y del 2003 a la fecha es profesor de tiempo completo de la Facultad de Derecho, Mexicali. En esa misma Unidad Académica desempeño el cargo de administrador y desde el 2013 hasta enero de 2019 fungió como director. A nivel de la administración central de la UABC, ha ostentado el cargo de Jefe del Departamento de Actividades Estudiantiles de la Dirección General de Bienestar Estudiantil y Coordinador de Servicios Estudiantiles y Gestión Escolar. Desde enero de 2019 a la fecha, es Rector de la UABC.