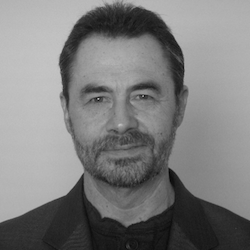 Carlos A. de la Parra
Research Professor of Urban and Environmental Studies at El Colegio de la Frontera Norte (El COLEF), Tijuana, Baja California, Mexico. and a former federal officer in SEMARNAT, Mexico's environmental ministry. Active in U.S.-Mexico environmental policy as, both, Advisor to Mexico's Commissioner to the International Boundary and Water Commission, and as Non-Federal Member of the Board of Directors, representing Mexican Civil Society, at the North American Development Bank (NADB, San Antonio, TX). Holds a PhD in Environmental Planning, University of Michigan in Ann Arbor (2001) and a degree in Civil Engineering (1979) from the Instituto Politécnico Nacional in Mexico City.
Profesor de Investigación de Estudios Urbanos y Ambientales en El Colegio de la Frontera Norte (El COLEF), Tijuana, Baja California, México. y un ex funcionario federal en SEMARNAT, la Secretaría de Medio Ambiente de México. Activo en la política ambiental de los Estados Unidos y México como Asesor del Comisionado de México ante la Comisión Internacional de Límites y Aguas y como Miembro no federal de la Junta de Directores, representando a la Sociedad Civil Mexicana, en el Banco de Desarrollo de América del Norte (BDAN, San Antonio, TX). Tiene un doctorado en Planificación Ambiental, Universidad de Michigan en Ann Arbor (2001) y una licenciatura en Ingeniería Civil (1979) del Instituto Politécnico Nacional en la Ciudad de México.