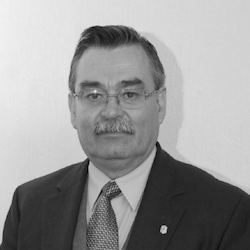 Hernando Durán Cabrera
Hernando Durán Cabrera, originally from Tijuana, received a degree, with honorable mention, in Industrial and Systems Engineering at the Monterrey Institute of Technology and Higher Education (ITESM). He was General Director of the State Commission of Public Services of Tijuana (CESPT) from 2007 to 2013, the agency that provides water and wastewater services. Within the public sector he has been the Private Secretary of the Governor and later Presidential Commissioner for Border Affairs, Ernesto Ruffo Appel. He was also Private Secretary of the Mayor of Tijuana Guadalupe Osuna Millán as well as Director of Social Communication of the XV City Council of Tijuana. He currently is a professor in the Engineering Department of the Universidad Iberoamericana in Tijuana. He is a partner of Frontera Norte Consultores that specializes in water projects. Duran is also Director of Tijuana Verde, the environmental
component of Tijuana Innovadora.
Hernando Durán Cabrera, originario de Tijuana, recibió un título, con mención honorífica, en Ingeniería Industrial y de Sistemas en el Instituto de Tecnología y Educación Superior de Monterrey (ITESM). Fue Director General de la Comisión Estatal de Servicios Públicos de Tijuana (CESPT) de 2007 a 2013, la agencia que brinda servicios de agua y aguas residuales. Dentro del sector público, ha sido Secretario Privado del Gobernador y luego Comisionado Presidencial para Asuntos Fronterizos, Ernesto Ruffo Appel. También fue Secretario Privado del Alcalde de Tijuana, Guadalupe Osuna Millán, así como Director de Comunicación Social del XV Ayuntamiento de Tijuana. Actualmente es profesor en el Departamento de Ingeniería de la Universidad Iberoamericana en Tijuana. Es socio de Frontera Norte Consultores que se especializa en proyectos de agua. Durán también es Director de Tijuana Verde, el medio ambiente
componente de Tijuana Innovadora.