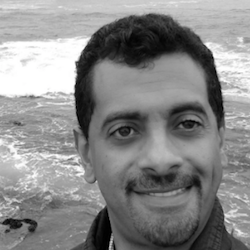 Fernando De Sales
Dr. Fernando De Sales is a faculty at the SDSU Geography Department. His research interest lies primarily in developing a better understanding of the processes associated with Earth's climate through numerical models. In particular, understanding the interactions between the atmosphere and the land surface has been the focus of his research. These interactions regulate heat, moisture, and gas exchanges, which in turn modulate wind and precipitation regimes; and therefore are strongly linked to a sustainable human existence.
His work explores different aspects of climate modeling. He is currently involved on projects investigating the impacts of deforestation in the Amazon rainforest, California's groundwater variability, and global warming effects on crops and wildfire. These projects are helping solve important questions, while training students to think beyond disciplinary boundaries.
Fernando is also a faculty at the SDSU Center for Climate and Sustainability Study, an associate with the Center for Brazilian Studies, and a member of the American Geophysical Union. He teaches a graduate-level course on climate modeling and undergraduate "Weather and Climate", "Earth's physical environment" and "Global Climate Change" courses.
Celeste Cantu nació en una familia pionera en el Valle de Mexicali / Imperial. Asistió a Calexico High School, recibió su BA en Planificación Urbana y Política en la Universidad de Yale y regresó a Calexico para ser el Director de Planificación de la Ciudad. Luego se desempeñó como Directora Ejecutiva de la Autoridad de Vivienda del Valle Imperial. Durante un año sabático, recibió una Maestría en Políticas Públicas de la Escuela de Gobierno Kennedy de Harvard. Se desempeñó como Directora Estatal para el Desarrollo Rural del USDA, como Directora Ejecutiva de la Junta Estatal de Control de Recursos Hídricos y Gerente General de la Autoridad del Proyecto de la Cuenca de Santa Ana. Actualmente, Cantú es Vicepresidente de la Junta Regional de Control de Calidad del Agua de San Diego y facilita la Red de Soluciones de Agua.