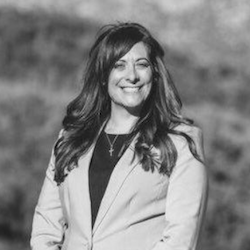 Hannah Gbeh Bio
Hannah Gbeh (pronounced "bay") serves as the Executive Director of the San Diego County Farm Bureau. She is owner/operator of an 8 acre certified organic family farm in rural San Diego County, Bee Valley Farm. She was a voting member on the Board of Directors of the San Diego County Farm Bureau for two years, representing SDCFB in both Sacramento and Washington D.C., in addition to establishing and serving as Chair on the Farm Bureau's Membership Assistance Committee. In her spare time, she founded, incorporated and managed a local non-profit organization that provides food, clothing, shelter, healthcare and education to poor, distressed and disadvantaged individuals.

Mrs. Gbeh also has 19 years of experience teaching and researching environmental science, 13 of which have focused exclusively on the preparation of documents for compliance with federal, state and local environmental regulations. She is a graduate from the University of Michigan with a degree in Environmental Science, a minor in Global Climate Change and a focus on environmental justice. Mrs. Gbeh is a County of San Diego Qualified EIR Preparer, City of Chula Vista Certified CEQA Consultant and County of Riverside Qualified EIR Consultant. She serves on the Jamul-Dulzura Community Planning Group and the San Diego County Fish and Wildlife Advisory Commission.
Hannah Gbeh (pronunciada "bahía") se desempeña como Directora Ejecutiva de la Oficina Agrícola del Condado de San Diego. Es propietaria / operadora de una granja familiar orgánica certificada de 8 acres en el condado rural de San Diego, Bee Valley Farm. Fue miembro con derecho a voto en la Junta de Directores de la Oficina Agrícola del Condado de San Diego durante dos años, en representación de SDCFB tanto en Sacramento como en Washington D.C., además de establecer y servir como Presidenta en el Comité de Asistencia para Membresía de la Oficina Agrícola. En su tiempo libre, fundó, incorporó y administró una organización local sin fines de lucro que proporciona alimentos, ropa, vivienda, atención médica y educación a personas pobres, angustiadas y desfavorecidas.
La Sra. Gbeh también tiene 19 años de experiencia enseñando e investigando ciencias ambientales, 13 de los cuales se han centrado exclusivamente en la preparación de documentos para el cumplimiento de las regulaciones ambientales federales, estatales y locales. Se graduó de la Universidad de Michigan con un título en Ciencias Ambientales, una especialización en Cambio Climático Global y un enfoque en justicia ambiental. La Sra. Gbeh es una Preparadora EIR calificada del Condado de San Diego, Consultora CEQA certificada de la Ciudad de Chula Vista y Consultora EIR calificada del Condado de Riverside. Es miembro del Grupo de Planificación Comunitaria Jamul-Dulzura y de la Comisión Asesora de Pesca y Vida Silvestre del Condado de San Diego.