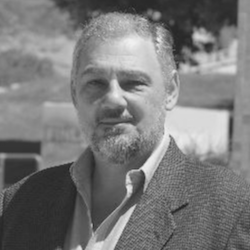 Dr. Isaac Azuz-Adeath
Scientific Research Coordinator at the Engineering College (CETYS System) and Full-Time Professor at the Engineering School (Campus Internacional Ensenada). Former Coordinator of the Master Degree Program in Environment and Sustainable Development (CETYS System).
Ph.D. in Marine Sciences from the Polytechnic University of Catalonia, Spain. Graduate Courses in Environment (Harvard University, USA) and Physical Oceanography (CICESE, Mexico). Bachelor´s Degree in Physical Oceanography (Colima State University, Mexico).
With sustainability as a general framework my professional practice goes from socioeconomic issues to environmental subjects. My main area of interest and professional development for the past 20 years has been "Integrated Coastal Zone Management" –in a broad sense- from technical works in the field of modeling physical/environmental processes to public policies development, governance research, as well as public participation processes.
Coordinador de Investigación del Colegio de Ingeniería (Sistema CETYS) y profesor de tiempo completo en la Escuela de Ingeniería (Campus Internacional Ensenada). Coordinó la Maestría en Medio Ambiente y Desarrollo Sustentable (Sistema CETYS).
Doctor en Ciencias Marinas por la Universidad Politécnica de Cataluña, España. Cursos de posgrado en medio ambiente (Universidad de Harvard, USA) y oceanografía física (CICESE, México). Licenciado en Oceanografía Física (Universidad de Colima, México).
Con la sustentabilidad como referente general, mi práctica profesional se ha desarrollado trabajando desde aspectos socioeconómicos hasta temáticas ambientales. Mi área de interés principal y de desarrollo profesional durante los últimos 20 años ha sido el Manejo Integral Costero en sentido amplio, desde el modelado de procesos físicos y ambientales al desarrollo de políticas públicas, aspectos de gobernanza costera y procesos de participación pública en la toma de decisiones.