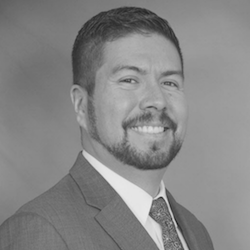 E. Joaquin Esquivel
E. Joaquin Esquivel was appointed to the State Water Resources Control Board by Governor Jerry Brown in March 2017 and designated by Governor Gavin Newsom as Chair in February 2019. Previously, he served as Assistant Secretary for federal water policy at the California Natural Resources Agency in the Governor's Washington, D.C. office, where he facilitated the development of policy priorities between the agency, the Governor's Office, the California Congressional delegation, and federal stakeholder agencies.
For more than eight years prior to that he worked for U.S. Senator Barbara Boxer of California, most recently as her legislative assistant covering the agriculture, Native American, water, oceans, and nutrition portfolios, in addition to being the director of information and technology.
He was born and raised in California's Coachella Valley. He holds a BA from the University of California, Santa Barbara in English.
E. Joaquin Esquivel fue nombrado miembro de la Junta Estatal de Control de Recursos Hídricos por el Gobernador Jerry Brown en marzo de 2017 y designado por el Gobernador Gavin Newsom como Presidente en febrero de 2019. Anteriormente, se desempeñó como Secretario Asistente para la política federal del agua en la Agencia de Recursos Naturales de California en la oficina del gobernador en Washington, DC donde facilitó el desarrollo de prioridades políticas de la agencia, la oficina del gobernador, la delegación del Congreso de California y las agencias federales de partes interesadas.
Durante más de ocho años, trabajó para la senadora estadounidense Barbara Boxer de California y recientemente como su asistente legislativo cubriendo las areas de agricultura, nativos americanos, agua, océanos y nutrición, además de ser el director de información y tecnología.
Nació y creció en el valle de Coachella en California. Tiene una licenciatura en Inglés por la Universidad de California Santa Bárbara.