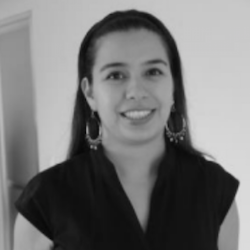 Jocelyn Citlali González Troncoso
Mtra. Jocelyn Citlali González Troncoso is a professor and doctoral student in Studies on Global Development in the School of Economics and International Relations (FEYRI) at UABC Tijuana. She has an undergraduate degree in International Relations from the Faculty of Political and Social Sciences of the National Autonomous University of Mexico (UNAM) and Master's in Integral Administration of the Environment from El Colegio de la Frontera Norte (El COLEFShe worked in the Ministry of Energy in the General Directorate of International Affairs on issues of international energy cooperation and multilateral organizations, as well as the Undersecretariat of Planning and Energy Transition on topics of technological innovation, performance of scientific research institutes in the sector of Energy and energy efficiency. Mtra. González also collaborated in the preparation of federal energy policy documents such as the National Strategy for Energy Transition and Sustainable Use of Energy versions 2013 and 2014. Her research areas include environment and energy, sustainable development, energy sustainability and cross-border cooperation.
Mtra. Jocelyn Citlali González Troncoso es profesora y estudiante de doctorado en Estudios sobre Desarrollo Global en la Facultad de Economía y Relaciones Internacionales (FEYRI) de la UABC Tijuana. Tiene una licenciatura en Relaciones Internacionales de la Facultad de Ciencias Políticas y Sociales de la Universidad Nacional Autónoma de México (UNAM) y una Maestría en Administración Integral del Medio Ambiente de El Colegio de la Frontera Norte (El COLEF). Ha trabajado en el sector energético público y privado. Trabajó en el Ministerio de Energía en la Dirección General de Asuntos Internacionales en temas de cooperación energética internacional y organizaciones multilaterales, así como en la Subsecretaría de Planificación y Transición Energética en temas de innovación tecnológica, desempeño de institutos de investigación científica en el sector de la Energía y eficiencia energética. Mtra. González también colaboró ​​en la preparación de documentos federales de política energética, como la Estrategia Nacional para la Transición Energética y el uso Sustentable de la Energía, versiones 2013 y 2014. Sus áreas de investigación incluyen medio ambiente y energía, desarrollo sostenible, sostenibilidad energética y cooperación transfronteriza.