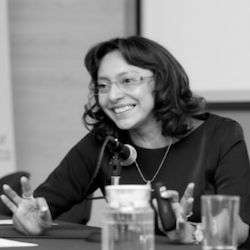 Dr. Judith Domínguez Serrano
Dr. Judith Domínguez Serrano is a professor and researcher at El Colegio de México, where she is also coordinator for the Ph.D. Program in Urban Studies and the Environment. She holds a doctor of laws degree from the Autonomous University of Madrid. Domínguez is a member of Mexico's National System of Researchers. She served at the National Water Commission and has been a consultor on environmental issues for national and international agencies. She is the author of numerous articles and books on water, water planning, and other environmental themes.
La Dra. Judith Domínguez Serrano es profesora e investigadora en El Colegio de México, donde también es coordinadora del Ph.D. Programa de Estudios Urbanos y Medio Ambiente. Es doctora en derecho por la Universidad Autónoma de Madrid. Domínguez es miembro del Sistema Nacional de Investigadores de México. Sirvió en la Comisión Nacional del Agua y ha sido consultora en temas ambientales para agencias nacionales e internacionales. Es autora de numerosos artículos y libros sobre agua, planificación del agua y otros temas ambientales.