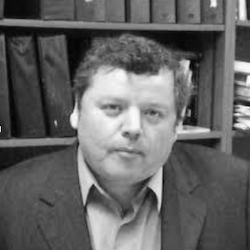 Marco Antonio Samaniego López
Dr. Marco Antonio Samaniego López is a researcher at the Institute for Historical Research at the Autonomous University of Baja California in Tijuana. He has a Ph.D. in history from El Colegio de Mexico. Samaniego's doctoral thesis, The international rivers between Mexico and the United States. The treaties of 1906 and 1944, was recognized as the best doctoral thesis in 2004 by the Mexican Academy of Sciences. He is the author of many books and articles on the history of Baja California and Mexico. He has contributed to the development of school textbooks on the history and geography of Baja California as well as the content for the Museum of the Californias at CECUT in Tijuana. Samaniego is a member of Mexico's National System of Researchers.
El Dr. Marco Antonio Samaniego López es investigador en el Instituto de Investigación Histórica de la Universidad Autónoma de Baja California en Tijuana. Él tiene un doctorado. en historia de El Colegio de México. Tesis doctoral de Samaniego, Los ríos internacionales entre México y Estados Unidos. Los tratados de 1906 y 1944, fueron reconocidos como la mejor tesis doctoral en 2004 por la Academia Mexicana de Ciencias. Es autor de muchos libros y artículos sobre la historia de Baja California y México. Ha contribuido al desarrollo de libros de texto escolares sobre la historia y la geografía de Baja California, así como el contenido del Museo de las Californias en CECUT en Tijuana. Samaniego es miembro del Sistema Nacional de Investigadores de México.