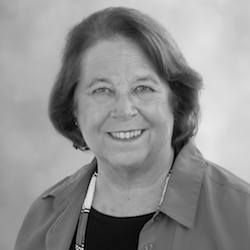 Denise Moreno Ducheny
Denise Moreno Ducheny is currently the Senior Policy Advisor at UC San Diego's Center for U.S.-Mexican Studies (USMEX).
Ducheny served in the California State Senate from 2002 to 2010, in the California State Assembly from 1994 to 2000, and as a member the San Diego Community College Board from 1990 to 1994. In both Houses of the Legislature she was the first woman and the first Latino to chair the Budget Committee, and throughout her legislative career was actively engaged in developing bi-national meetings of legislators from California with Mexican State Legislators from Border States. Her representation of the Border Region of San Diego, Imperial County and eastern Riverside County compelled her involvement in addressing issues presented in both the Colorado and Tijuana River Watersheds during her tenure. Since 2014 she also has served as the U.S. public representative to the Board of the North American Development Bank
Ducheny holds a B.A. in history from Pomona College and a J.D. from Southwestern University School of Law. She currently resides near the Baja California border in Imperial Beach, California with Al Ducheny, her husband of more nearly 40 years.
Denise Moreno Ducheny es actualmente la Asesora Principal de Políticas en el Centro de Estudios Mexicanos de EE. UU. (USMEX) de la UC San Diego.
Ducheny sirvió en el Senado del Estado de California de 2002 a 2010, en la Asamblea del Estado de California de 1994 a 2000, y como miembro de la Junta de San Diego Community College de 1990 a 1994. En ambas Cámaras de la Legislatura fue la primera mujer y el primer latino en presidir el Comité de Presupuesto, y durante toda su carrera legislativa participó activamente en el desarrollo de reuniones binacionales de legisladores de California con legisladores estatales mexicanos de los estados fronterizos. Su representación de la región fronteriza de San Diego, el condado Imperial y el este del condado de Riverside obligó a su participación a abordar los problemas presentados en las cuencas de los ríos Colorado y Tijuana durante su mandato. Desde 2014, también se ha desempeñado como representante pública de los Estados Unidos ante la Junta del Banco de Desarrollo de América del Norte.
Ducheny tiene un B.A. en historia del Pomona College y un J.D. de la Southwestern University School of Law. Actualmente reside cerca de la frontera de Baja California en Imperial Beach, California, con Al Ducheny, su esposo de más de 40 años.