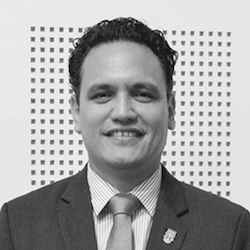 Natanael Ramírez Angulo
Natanael Ramírez Angulo is director of the FEyRI at UABC. He has a degree in Economics from the Autonomous University of Sinaloa, a Master in International Economics and a Doctor in Economic Sciences from the UABC, and a PhD candidate in Industrial Economics and Labor Relations from the University of Castilla La Mancha in Spain. He has served as undersecretary for the attention of the micro, small and medium enterprises of the Government of Baja California. Dr. Ramírez is a member of National System of Researchers of CONACYT. He has published chapters of books and articles in national and international journals on the topic of micro and small business development.
Natanael Ramírez Angulo es director de FEyRI en la UABC. Es licenciado en Economía por la Universidad Autónoma de Sinaloa, Máster en Economía Internacional y Doctor en Ciencias Económicas por la UABC, y candidato a doctor en Economía Industrial y Relaciones Laborales por la Universidad de Castilla La Mancha en España. Se ha desempeñado como subsecretario para la atención de las micro, pequeñas y medianas empresas del Gobierno de Baja California. El Dr. Ramírez es miembro del Sistema Nacional de Investigadores de CONACYT. Ha publicado capítulos de libros y artículos en revistas nacionales e internacionales sobre el tema del desarrollo de micro y pequeñas empresas.