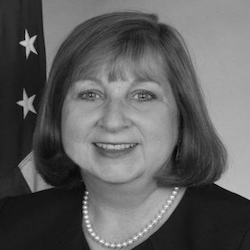 Sue Saarnio
Sue Saarnio is Consul General of the United States in Tijuana. She is a career Foreign Service Officer with more than 30 years of experience on international trade and economic issues in the U.S. State Department. She started her Foreign Service career serving in the U.S. Embassy in Mexico City. She most recently served as Principal Deputy Assistant Secretary in the Bureau of Energy Resources and Senior Advisor in the Bureau of Oceans, International Environmental and Scientific Affairs. Prior to that, she served as the Deputy Assistant Secretary of State for Mexico, Canada, and Regional Economic Policy in the Bureau of Western Hemisphere Affairs.
She has served in the State Department's Economic, Energy and Business Affairs Bureau as Deputy Special Representative for Commercial and Business Affairs and Director for Multilateral Trade Affairs. She was the U.S. Special Advisor for Conflict Diamonds. She also has served at U.S. Embassies in Ottawa, Panama, and at the U.S. Consulate General in Jerusalem.
Prior to her government service, Ms. Saarnio worked as a journalist in Montana and Minnesota. She is a graduate of Macalester College in St. Paul, Minnesota, and attended the American University in Cairo, Egypt.
Sue Saarnio es Cónsul General de los Estados Unidos en Tijuana. Ella es una Oficial de Servicio Exterior con más de 30 años de experiencia en comercio internacional y asuntos económicos en el Departamento de Estado de los Estados Unidos. Comenzó su carrera en el Servicio Exterior sirviendo en la Embajada de los Estados Unidos en la Ciudad de México. Más recientemente se desempeñó como Subsecretaria Adjunta Principal en la Oficina de Recursos Energéticos y Asesora Principal en la Oficina de Asuntos Oceánicos, Científicos y Ambientales Internacionales. Antes de eso, se desempeñó como Subsecretaria Adjunta de Estado para México, Canadá y Política Económica Regional en la Oficina de Asuntos del Hemisferio Occidental.
Ha trabajado en la Oficina de Asuntos Económicos, Energéticos y Comerciales del Departamento de Estado como Representante Especial Adjunta para Asuntos Comerciales y Comerciales y Directora para Asuntos Comerciales Multilaterales. Ella fue la Asesora Especial de los Estados Unidos para Diamantes de Conflicto. También ha servido en las embajadas de los Estados Unidos en Ottawa, Panamá, y en el Consulado General de los Estados Unidos en Jerusalén.
Antes de su servicio en el gobierno, la Sra. Saarnio trabajó como periodista en Montana y Minnesota. Se graduó de Macalester College en St. Paul, Minnesota, y asistió a la American University en El Cairo, Egipto.